With a pitch score of 7.54, SmartTerm narrowly missed the top prize in the panel-judged competition but won the hearts of the audience.
June 2022 | SmartTerm Technology Ltd, a company established in the Caribbean, attended Collision Conference 2022 held from June 20-23 at the Enercare Centre in Toronto. Co-founder and Chief Technology Officer (CTO) of SmartTerm, Ayodele Pompey represented SmartTerm in the RADARxCOLLISION Pitch competition and copped second place as Sławek Potasz from Car Scanner took home the grand prize of CAD$13,000 in professional services. Incredibly, Car Scanner edged the prize by 0.01. The other participants included Howard Qizeng Huo from zkTube Labs and Yuhuai Yuan from Dealership Resource.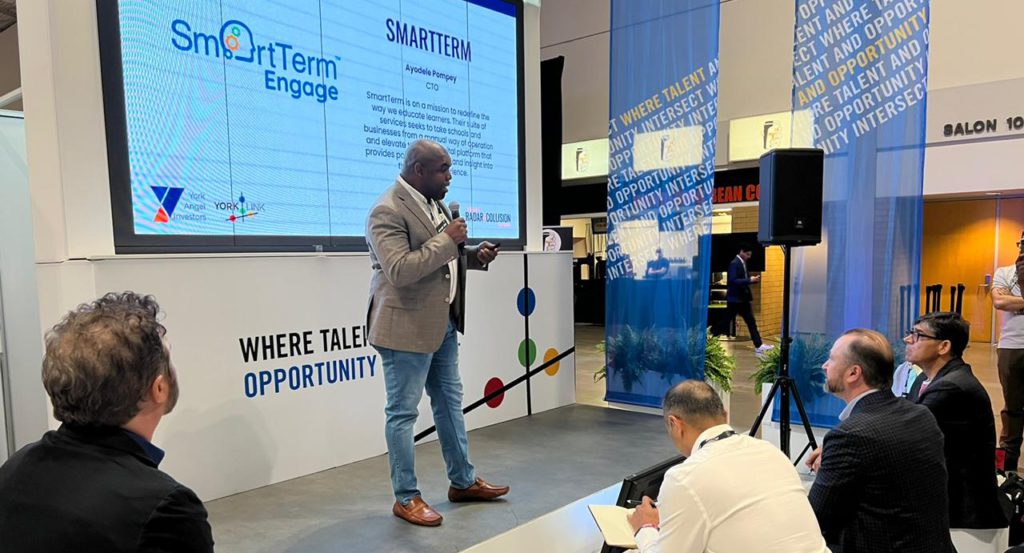 The RADARxCollision Pitch competition was put on by York Angel Investors and managed by Katie Salem, Executive Director of York Angel Investors. The competition was judged by a panel of Angel Investors and the audience who both used the PitchScore application. Ayodele Pompey, accompanied by fellow co-founder Mohammad Saif Ahmad, was the crowd favorite, winning based on the pitch score awarded by the judges in the audience.
Collision Conference 2022 is a Web Summit event attended by over 35,000 people.

About SmartTerm
Founded in 2016, SmartTerm is an EdTech company with locations in Jamaica and Canada. Its flagship product, the SmartTerm LMS supports over 600 K-12 schools in 13 countries globally. SmartTerm is on a mission to change the way the world learns.